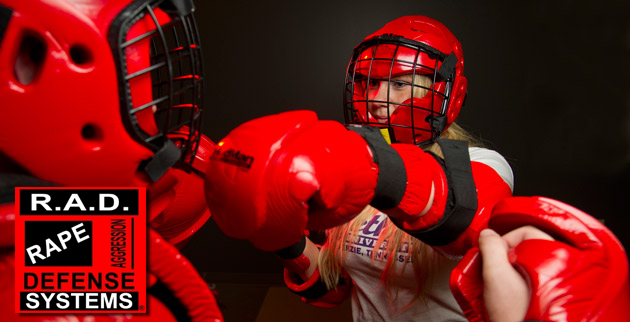 The  Precinct 5 Constable's Office offers RAD classes to women of all ages.  RAD (Rape Aggression Defense) is a nationally recognized system of self-defense that begins with awareness and avoidance, and moves through to hands-on defense techniques.  It is the only self-defense program of its kind endorsed by the International Association of Campus Law Enforcement Administrators (IACLEA), National Academy of Defense Education, the National Self-Defense Institute (NSDI) and Redman Training Gear.
All of our instructors and aggressors are certified by RAD and are deputies with our department.
Classes are broken into four sessions, held on Tuesday and Wednesday nights, from 6 p.m.-9 p.m., over two consecutive weeks. Registration is free, however, class space is limited and demand is high, so please plan on attending all 4 sessions.  To receive a certificate of completion you must attend all sessions.
R.A.D. Class
Please note, if you are pregnant you will not be allowed to participate in the hands on simulation, however you are still welcome to attend the class.
Wear loose, comfortable clothing.  Work out clothing is fine.
Wear comfortable tennis shoes.  No open toed shoes or sandals allowed.
Bring a tieback and or headband for long hair.
Bring a hand towel.
Bring water, or sports beverage to drink.