Patrol is, by far, the largest division within Precinct 5.  Highly trained and well equipped, these deputies are the front line in the fight against crime.  Our agency believes in community oriented policing, meaning our deputies don't just patrol a community, they become a part of it. They get to know the residents, and residents get to know them.
This is possible because our deputies stay within the neighborhoods they patrol.  They aren't tasked to larger areas that may or may not be near a subdivision.  This not only strengthens the relationship between a community and our agency, but accounts for Precinct 5's ability to maintain extremely low response times.
Precinct 5 prides itself in rapid response times to all calls for service.  Fast response times provide residents with the assistance they need quickly and gives our deputies increased opportunities to make an arrest while the crime is being committed.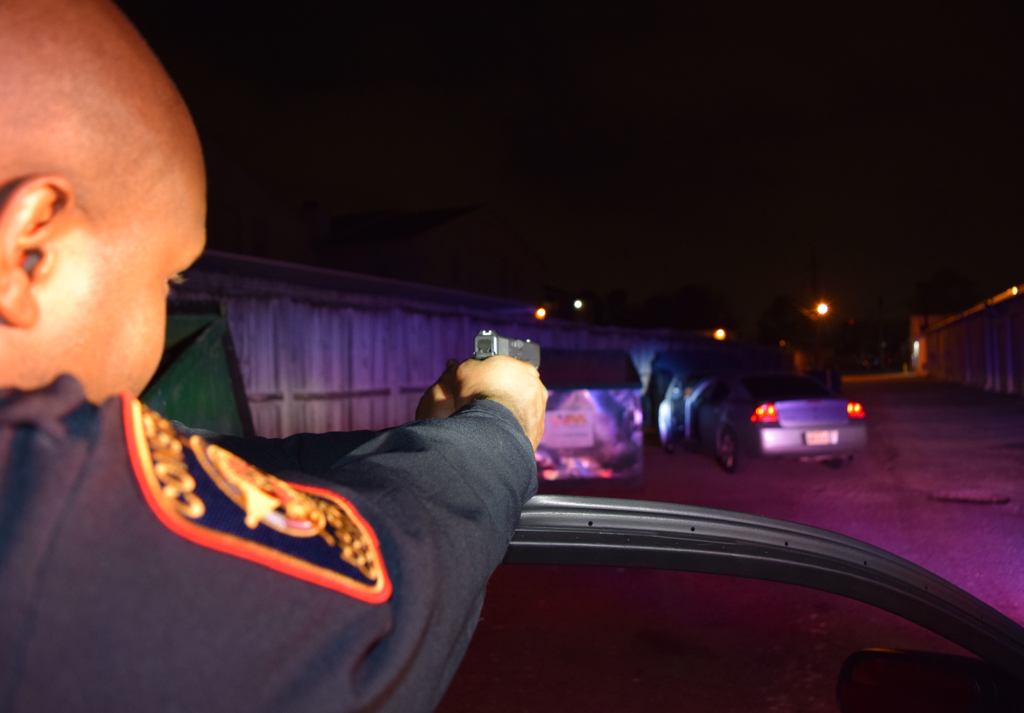 "I always feel better at night, and more secure, knowing that a deputy is patrolling my neighborhood.  Because I know if I had a problem, if there was trouble, one call to Precinct 5 dispatch and that deputy would be here in two or three minutes, sometimes less, and I appreciate that."
Skip Skinner, Ashford Community
From the beginning of the year through September, Precinct 5's Patrol division logged almost 350,000 calls for service.  These include everything from information calls, to welfare checks, burglaries, to aggravated assaults, and everything in between.
More specifically, we responded to:
5,142 Alarm Calls
2,256 Disturbances
7,697 Suspicious Vehicles
4,275 Suspicious Person
We conducted 55,223 Traffic Stops
Investigated 2,846 Motor Vehicle Accidents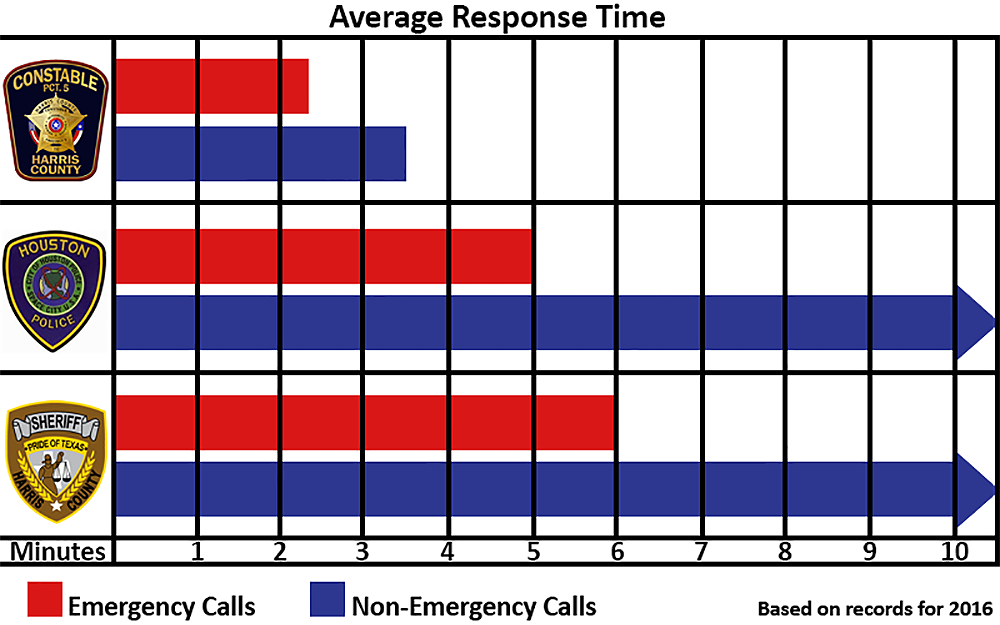 The effectiveness and advantages of community oriented policing can't be overstated, but its strength comes in the contracted patrol program.
Traditionally, law enforcement has been responsible for patrolling large areas within a municipality or county.  This forces them to stretch officers out and prioritize calls that, in some cases, cause extremely delayed response times.  All too often an officer is left with a reactionary role of taking a report and going back in service to move onto the next call, probably many miles away.
With the contract patrol program a Precinct 5 deputy is assigned to the neighborhood or district for which they were contracted.  Through highly visible patrols they are able to deter crime, respond faster when a crime does occur, and focus more time and effort on investigating each crime to its conclusion.  To learn more about the Precinct 5 Contract Patrol Program contact Lt. Mitch Hutter at Mitchell.Hutter@cn5.hctx.net
Residents who live within a Precinct 5 Contracted Patrol area may request a Vacation Watch or Special Watch.  This alerts deputies to special circumstances or lets them know when you will be out of town so they can keep an extra watch.  To submit a request, follow the links below.  For immediate response, please contact our dispatch office at 281-463-6666 and have a deputy sent out to take the information directly.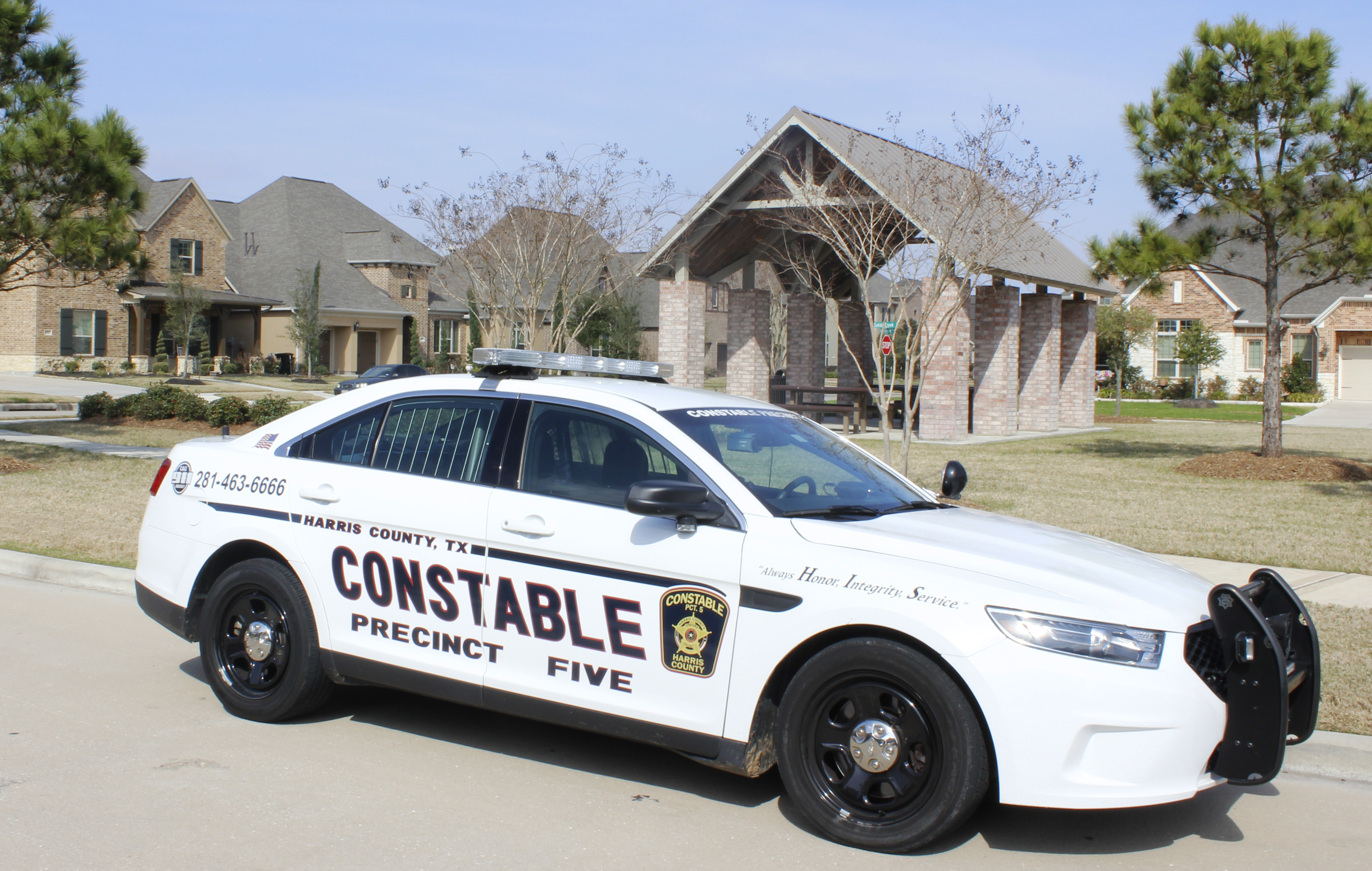 Traffic enforcement can be a major concern for residents as well as law enforcement.  Precinct 5 deputies routinely run traffic to deter violations, however, at times it may become necessary to supplement these efforts.
The Precinct 5 speed trailer initiative is a tool used to accomplish just that.  We will deploy a speed trailer to approved areas (see below) for one week, during daylight and early evening hours only.  During this week deputies may still make traffic stops and issue warnings or citations, however, in the days following the trailer's placement, Precinct 5 motorcycle units will be on location to focus on continued violations.
What is the criteria for a speed trailer's placement?
Can only be placed within the boundaries of Precinct 5.
Contracted patrol areas, and surrounding streets are given priority for placement.
Cannot be placed on a highway or feeder road.
Cannot be placed on a curve or otherwise obstructed to oncoming traffic for up to 300 feet. (Approximately a football field's length).
Cannot be placed on private property.
Cannot be placed in a moving lane of traffic or any location that would cause a traffic hazard.