At the core of this division is the Uniformed Investigative Deputy (UID).  These units are uniformed deputies who perform a hybrid of patrol / investigative functions.  They receive advanced training to aid them in conducting thorough investigations.  Working under the direction of a Criminal Investigations Sergeant, these units improve the quality of preliminary investigations, increase the effectiveness of patrol, and allow for early case closure.
When a Pct. 5 patrol deputy is dispatched to a call and determines that a uniformed investigator is needed, they coordinate with the investigator and work together to develop leads to effect an arrest.  The patrol deputy is then able to return to service while the UID begins developing a case.  This not only returns patrol units to service quickly, but ensures that crimes are investigated from beginning to end, seamlessly, within Precinct 5.
Because criminals have no boundaries, they can strike in neighboring areas, and in some cases law enforcement is unaware of the activity conducted outside their jurisdictional lines.  The Uniformed Investigator, however, coordinates with outlying agencies to ensure information is flowing in both directions.
The creation of the Uniformed Investigators has given Precinct 5 an invaluable asset to better serve the community.  On average, the UID division is able to clear almost 50 cases a month, with about half resulting in an arrest being made.  These cases cover a variety of calls, such as Theft, Robbery, Aggravated Robbery, Assault, Aggravated Assault, Motor Vehicle Burglary, Deadly Conduct, and more.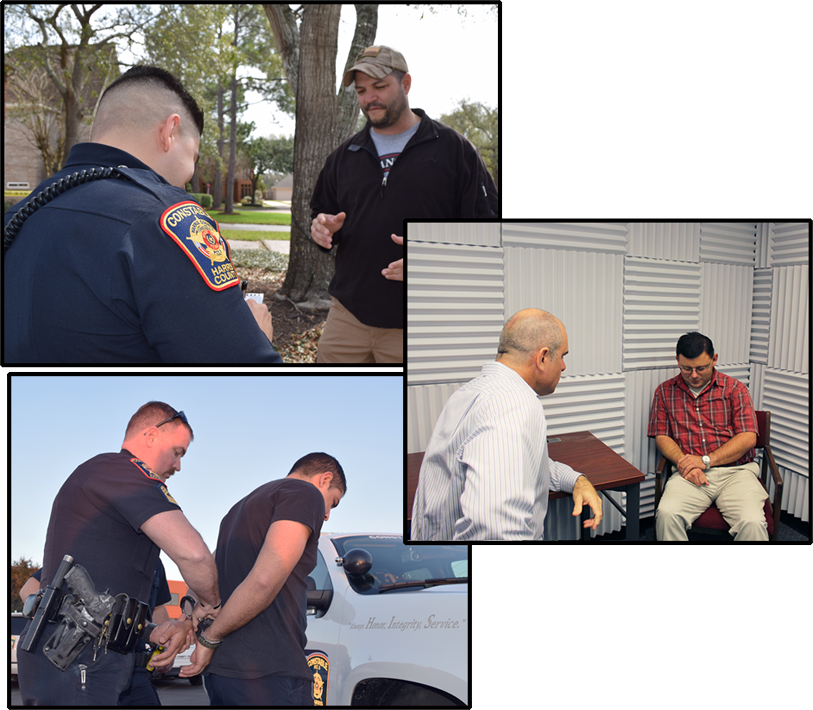 Building and clearing a case goes well beyond taking a report.  It can take numerous hours, stretched over several days, or even weeks.  It involves searching for evidence, processing evidence, running down leads, interviewing witnesses and suspects, and much more.  While no two cases are the same, a typical progression for case development might look like this.
Detailed report taken of initial crime.
Process crime scene for trace evidence.
Interview potential witnesses.
Compile initial findings and develop leads.
Interview new leads.
Evaluate evidentiary results, adjust investigation accordingly.
Identify suspect/suspects.
Conduct suspect interview, lineup, photo spread, etc.
Compile case file to present to the DA's office.
Obtain arrest warrant.
Serve warrant and file charges.
UID Stats for 1 month in 2017
43 Criminal Investigative Cases Cleared
7 Burglaries of Motor Vehicles
2 Burglaries of a Habitation
1 Possession of Controlled Substance
13 Thefts
1 Theft of a Firearm
1 Criminal Trespass
2 Aggravated Robberies
4 Robberies
1 Aggravated Assault
2 Assaults
4 Fraud or Credit Card Abuse
1 Criminal Mischief
2 Improper Video
1 Deadly Conduct
1 Unlawful Use of ID